Juliana Hatfield, When I Grow Up (Book Review) by jgn on Saturday, January 3, 2009 in Reading and Reviews
Juliana Hatfield, When I Grow Up: A Memoir (2008). $24.95. [Amazon
]
I'm a sucker for a good rock and roll memoir, and picked up Juliana Hatfield's when I first saw that it was available. Hatfield was the lead singer and bass player of the Blake Babies, and went on to a decent solo career (for the history and discographies, see Wikipedia and allmusic). She has a wonderful sense for melody, and the good sense to pick great producers who can beef up her guitars and voice to balance out her sound. She spent time at Berklee and knows her musical onions.
The book is a mixture of nearly present-day tour diary and reflection on past days, alternating chapters (more on less) on these two topics. The tour is a multi-city trip of her most recent band-effort, Some Girls. In both parts, everything that is concrete and detailed is funny or thought-provoking or memorable. You hear about the creeps who want more than her autograph, the jerks who have interviewed her unfairly, the bad hotels and good hotels (I want to go to the Congress Hotel in Tucson based on her brief assessment here), the friends and lovers (?) she sees only on the road. Good stuff. There is a great story of the first meeting of the Blake Babies. She is trenchant on the difficulties managing personalities on a tour. And she's honest about the money.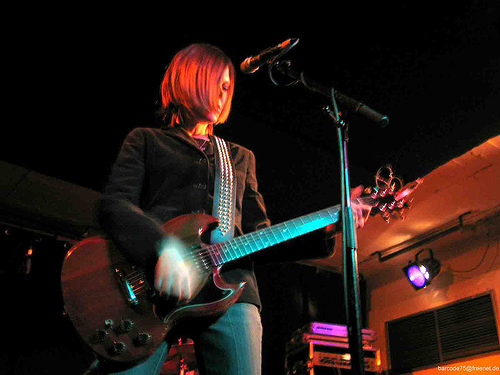 Picture: Christian Kock
There is also a lot about her personal weaknesses and artistic efforts: This was tougher for me. She is hopelessly shy and self-doubting, but at the same time driven at the core to make music. But there was maybe too much of this. When she does go into detail on her emotional ups-and-downs -- for instance, on her trouble with food -- she gets interesting again. But, really, I'm on already on her side emotionally because her music is great.
One thing for sure: If you're in a band and thinking about a tour, or about making a career of music . . . This is one to read, because it's a tough road.
comments powered by